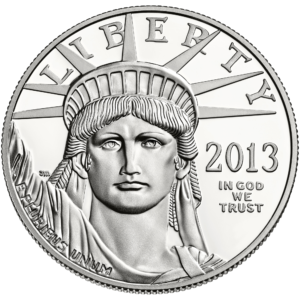 Platinum has a much shorter history in the financial sector than either gold or silver, which were known to ancient civilizations.
Platinum is relatively scarce even among the precious metals groups. New mine production totals approximately only 5 million troy ounces a year. In contrast, gold mine production runs approximately 82 million ounces a year and silver production is approximately 547 million ounces.
The price of platinum changes along with its supply and demand; during periods of sustained economic stability and growth, the price of platinum tends to be as much as twice the price of gold, whereas, during periods of economic uncertainty, the price of platinum tends to decrease because of reduced demand, falling below the price of gold, partly due to increased gold prices. Platinum price peaked near US$2,300 per troy ounce in March 2008.
Platinum usage
Of the 239 tonnes of platinum sold in 2006, 130 tonnes were used for vehicle emissions control devices, 49 tonnes for jewelry, 13.3 tonnes in electronics, and 11.2 tonnes in the chemical industry as a catalyst. The remaining 35.5 tonnes went to various other minor applications, such as electrodes, anticancer drugs, oxygen sensors, spark plugs and turbine engines
Platinum coins
Platinum coins are a form of currency, and the issues of legitimate platinum coins were initiated by Spain in Spanish-colonized America in the 18th century and continued by the Russian Empire in the 19th century. As a form of currency, these coins proved to be impractical: platinum resembles many less expensive metals, and, unlike the more ma;;eable and ductile silver and gold, it is very difficult to work. Several commemorative coin sets have been issued starting from 1978 and became popular among coin collectors. The major platinum bullion coins include the Platinum American Eagle and the Canadian Maple Leaf and several series. The production of most platinum coins stopped around 2005 except for the American Platinum Eagle – one of the world's most popular platinum coins – which was still being produced in 2009.
More Questions?
Call (877) 703-2193. We will answer any questions you may have.