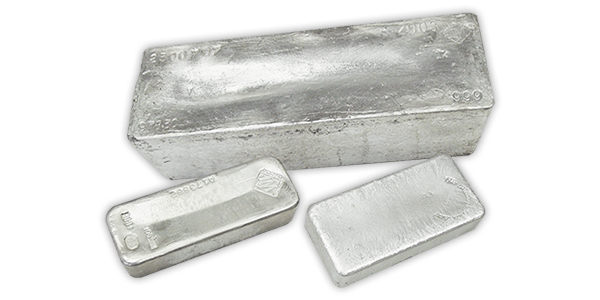 A traditional way of investing in silver is by buying bullion bars.
The flat, rectangular shape of silver bars makes them ideal for storage in home safes, safe deposits at a bank, or storage is available to our customer's in allocated storage with Delaware Depoitory.
Various sizes of silver bars:
1000 oz troy bars – These bars weigh about 68 lbs. (31 kg) and vary about 10% as to weight, as bars range from 900 ozt to about 1,100 ozt (28 to 34 kg). These are Comex and LBMA good delivery bars.
100 oz troy bars – These bars weigh 6.8 pounds (3.11 kg) and are among the most popular with retail investors. Most common hallmarked bars are Englehard and Johnson Matthey (JM).
Odd weight retail bars – These bars cost less and generally have a wider spread, due to the extra work it takes to calculate their value and the extra risk due to the lack of a good brand name.
1 kilogram bars (32.15 oz troy)
10 oz troy bars and 1 oz troy bars (311 and 31.1 g)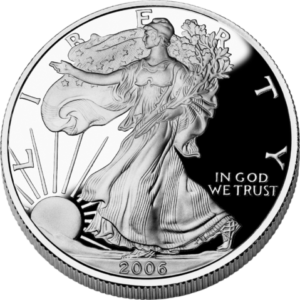 American Eagles bullion.
Buying silver coins is the most popular method of physically holding silver. Other examples are the one ounce 99.99% pure Canadian Maple Leaf and the one ounce 99.9% pure American Silver Eagle. Silver coins may be also be bought as either fine silver or junk silver bags, the latter being older coins with a smaller percentage of silver. U.S. coins 1964 and older half dollars, quarters and half dollars are 25 grams per dollar of face value and 90% silver (22½ g silver per dollar) and contain approximately 715 ounces of pure silver per $1,000.00 face value. All 1965-1970 Kennedy half dollars, quarters and dimes are considered "clad" in a silver alloy and contain just under one half of the silver in the pre-1965 issues or 357.5 ounces per $1,000.00 face value.
Silver enthusiasts use .999 fine silver as a store of value.
More Questions?
Call (877) 703-2193. We will answer any questions you may have.